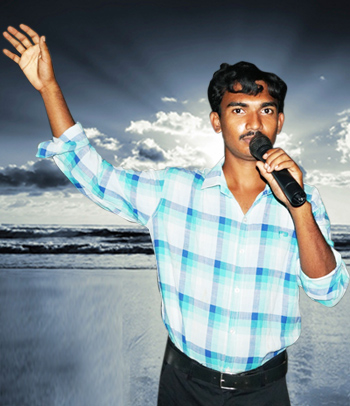 I am glad to introduce my life story in Jesus Christ briefly. I am Amajala Satish Kumar, and living in Anuru village. It is in Tuni Mandal, comes under East Godavari District of Andhra Pradesh in India. I was born in high caste Hindu Family.
We used to live in a small house, my father was a farmer, unfortunately he got expired in 2012, soon after his death, It was a very difficult time for me to complete my college plus 2 (pre-university) studies, While my father was alive both parents had believed Jesus Christ and they used to teach me about the love of Jesus Christ and all His miracles when He came to this world and not only that in they led godly life and became a model to us as good Christian parents and by their encouragement and prayerful life I believed Jesus Christ as my personal Savior and God in my childhood itself.
I used to study the word of God, and I used to spend much time in Prayer and sometimes, and I was very regular to church and I used to participate in church activities as well like taking leadership in church and Youth meetings and was going out for gospel work along with church group I used to go door to door to share good news and distribute gospel tracts new testaments to Non-Christian people who are in rural and remote villages, and even tribal areas. Moreover, I was usually give assistance to our church Pastor to share word of God , involve in cottage prayers and hospital visiting's, like wise I was very busy in gospel activities God began to speak to me about His ministry call, but in the beginning, I could not understand as Prophet.
Samuel when he was a child: 1 Sam.3rd Chapter. Like this way, Lord had been speaking to me again and again through His Word, Jermiah1:5 and He really strengthened me through Prayer and Word. Because of young age though I could not grasp in the beginning when He called me first time for His ministry as days gone by I was able to realize fully the calling of God, then I was prepared to come for the Ministry of God. After His call to ministry, I was able to start new House church in Pydikonda in 2013 and named it as Jesus Grace Church, which is now functioning regularly in poor leaves shed, where thirty people who come from Hindu family background, attending and worshipping the Lord, where Sunday school is also going on with 30 children and there are lot of poor people like poor widows and old aged people .Having heard my Christian work kindly pray and encourage my ministry I also pray for you and your ministry sincerely. Thank you.
Your s in His Mission,
Pastor Satish Kumar